The First Two Years | A Modern Baby Book
This is one of my favorite projects to date: a modern baby book documenting a little girl's first two years.
I love taking on a lot of memories in one project. A project that covers a lengthy period of time ensures that only the most significant memories make the final cut.
Case in point: this "first two years" format for a baby book forced my client to really consider which photos to include. There just wasn't room in one book to document every single memory from those first couple of years (and her pregnancy!).
The result is stunning: a simple, beautiful, concise history of a little girl's first two years.
After I got the book to my client, she texted and said "I LOVE it! It's very beautiful and it means so much to us."
My client texted me a few weeks later and let me know her daughter picks this book to read at bedtime, and she wants to take it to school for show-and-tell.
Be still my heart.
Read on for how I we worked together through the plan, process, and design for this particular project.
Last fall one of my former stationery clients contacted me about custom memory-keeping.
She isn't a memory-keeper herself, and she hadn't yet done anything with her photos.
But she wanted to start documenting some of her family's memories. She was just at a loss as to where to start and how to make it happen.
I was so happy and honored to help.
She and her husband have two beautiful kids. Their oldest is approaching elementary school, so we had some catching up to do.
I recommended we start with a "baby book" for each kiddo documenting their first two or three years of life. After struggling to narrow three years of life into one book, we went with the first two years.
That would get us caught up significantly on a whole bunch of family memories, encourage my client to pick all (and only!) the best memories from those first couple of years, and enable her to quickly "catch up" on her memory-keeping to very recent history.
The "first two years" format works so well for their family.
Both her daughter's and son's books cover about two-and-a-half years (since we included the pregnancies), and her son was two years old when her daughter was born, so we've got over four years of family history documented in just two projects.
Now that these books are complete, we can work on annual or biannual family photo books to stay current.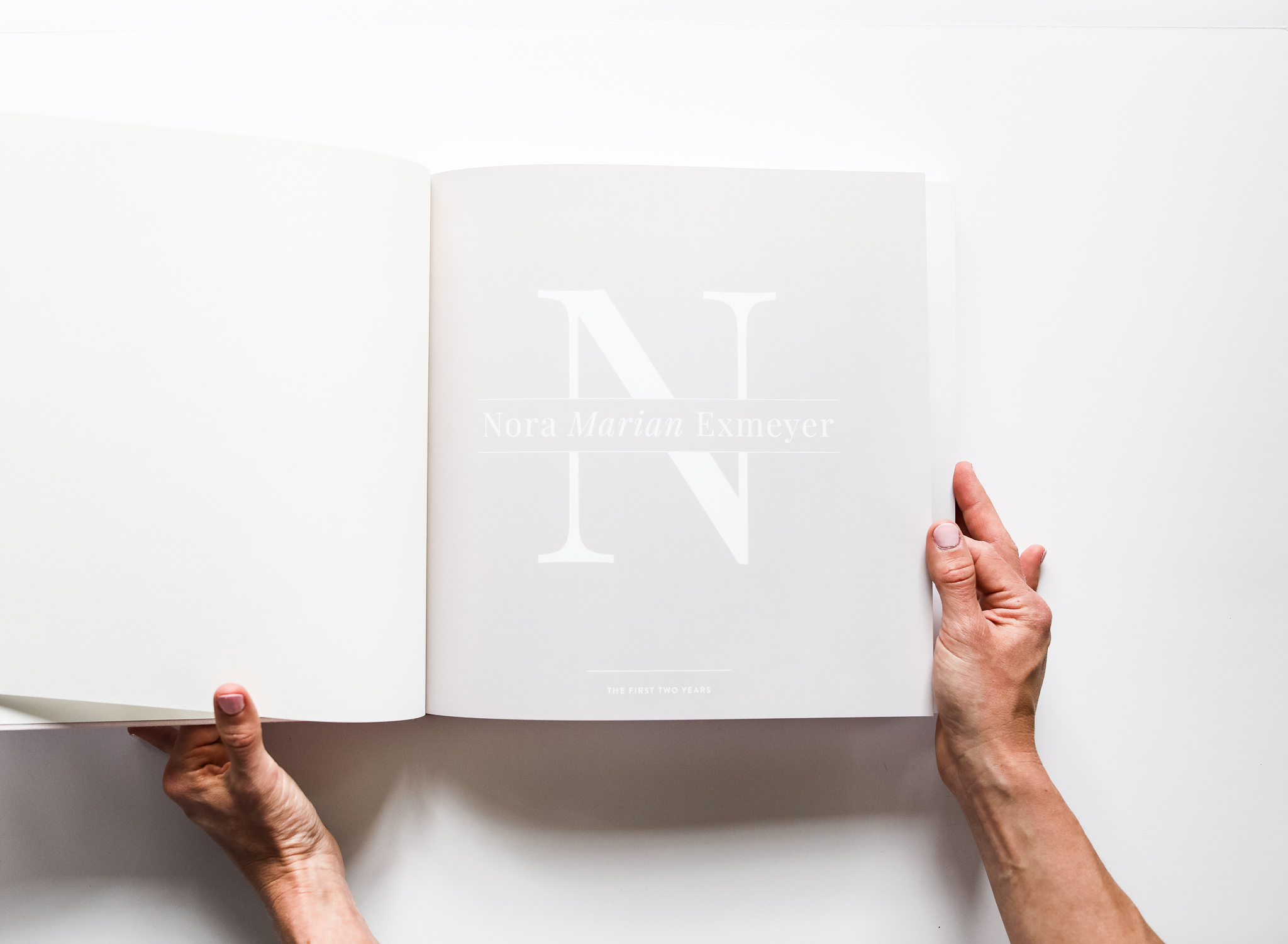 After ticking off some behind-the-scenes boxes (client agreement, deposit, booking a start date), I got to work on the planning.
Organization
As I mentioned, I broke this project up into seasonal "chapters" starting with my client's pregnancy, and continuing with the birth and each season of her first two years.
My client has great photos from her kids' birthday parties, so I added a section at the end of each year for the birthday party.
And rather than break the years into months, I broke them into seasons, so four 3-month seasons for each year, starting with the birth at the end of December and ending with her second birthday.
Photos
I'll have a post addressing how to select photos, but in short, I take the number of pages in the photo book, multiply by two, and that's the maximum number of photos I like to include so the book doesn't feel crowded.
For client projects I use up to 300 photos, so I took the sections we had and broke down the number of photos evenly at first, and then increasing the number for sections where I knew my client had more photos and lowering that number for sections with fewer photos.
I created shared Google Drive folders for each section.
Journaling
I asked my client to write down her birth story and a note for or about her daughter.
I like to weave my clients' words throughout the photo book in big sections of journaling and brief quotes pulled from those longer segments.
I also asked my client for a quote or poem or something that meant something to her from those first couple of years. She chose a quote from one of her favorite children's books.
Finally, I had my client gather some growth stats from the first two years so we could include a really simple growth chart in the book.
Video
I'll share the video in another post, but I also asked my client to upload video clips from the first two years so I could intersperse video with the photos.
She shared everything with me in Google Drive, where I created a folder for each section of the book.
Photo Editing
On day one of the project, I got to work editing photos. I can't believe what a difference photo editing makes.
I use the same steps over and over again (you can read a bit about that here), but the results are always worth the effort.
I edited all of the 300 images in this book using Lightroom, and I included a fair amount of black and white photos, which not only help correct bad lighting but add a timeless quality to the project.
Custom Pages
Next up, I designed the custom pages in Adobe Illustrator.
I wanted to create seasonal title pages using a feminine color scheme and do a little different design for the birthday intros.
My client mailed me some artifacts so I was able to photograph and include things like her birthday party hat, baptism gifts, and notes from grandparents, all of which I included in the book.
I also loved how the growth chart turned out at the end of the book! I think those special pages add so much to the design and just make the book feel elevated and truly like a work of art.
Proofing
Of course I finished by proofreading multiple times and sending the book to my client to proof before going to print.
Having designed wedding stationery for years, I know how important this step is in the process. So I check for the photo cropping, the layouts, lines, spelling, order, etc.
It's the most critical step in the process, particularly when you're making a big investment in printing. Don't ever skip it!
The final result is stunning.
The book is an eleven inch square, wrapped in pale pink linen.
I added the client's daughter's initials on the spine and the title "The First Two Years" on the cover.
Her older brother has a book of his own. His is light grey with the same title and his initials on the spine, so they have a matching set.
The paper is matte, feels great, and lays flat on almost every page.
I'm so happy with how this turned out that I want to create a pair for my own kids!
I think these modern baby books are absolute treasures.
And the best part is that my client is DONE. Both of her kids' baby books are in the books (so to speak). They're complete, finished, finito!
My client is truly the hero of this story.
She's a mom to two young kids. She has an incredibly successful professional career. She's kind and fun and cares so much about her family.
And she made financial, emotional, and time investments to get this project done.
Now it's theirs to enjoy for years to come.